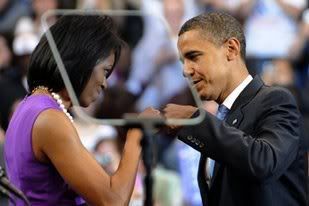 Instead of focusing on the comical (in a sad way)
"fist-pound" vs. "knuckle-bump"
debate stemming from Barack and Michelle's display of affection (or I guess "Blackness"), and how it's already been misinterpreted as a
"terrorist fist-bump"
(you never fail to disappoint, Fox News) I'm going to leave everyone with a bit of optimism.
The first Democratic convention Obama ever attended was Los Angeles in 2000 and his credit card bounced at the rental-car station. He also wasn't able to secure a floor pass and watched most of the speeches on television screens.
And eight years later he's made millions of dollars and has a legitimate chance at becoming the first Black president of the United States -- not to mention the almost as big coup of being elected President without any links to the sperm of a Bush or Clinton.
Not to be outdone:
Things are "moving so fast in race relations a Negro could be president in 40 years. There's no question about it," the attorney general said. `In the next 40 years a Negro can achieve the same position that my brother has.' ... Kennedy said that prejudice exists and probably will continue to ... `But we have tried to make progress and we are making progress. We are not going to accept the status quo.'"
This is from a speech given by Bobby Kennedy to the Voice of America in Alabama. Tim Russert referenced it
Meet The Press
this past Sunday. The speech was delivered in 1968. Ok, I'm not a Math whiz either, but do the math, folks. Smile.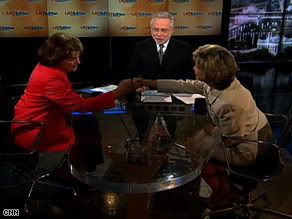 Little
by
little
, progress is being made
*Note: Senators Dianne Feinstein and Kay Bailey Hutchinson referred to it as a handshake.
The Cynical Ones.