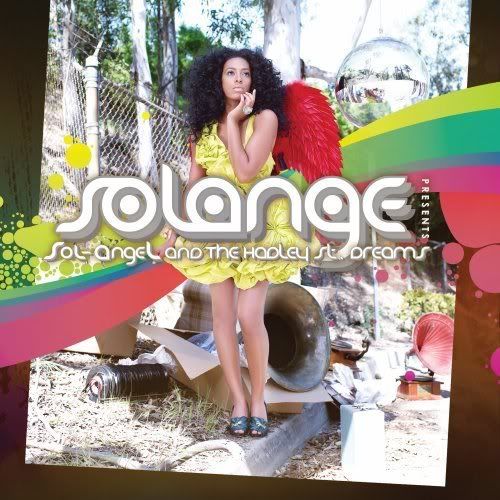 Perhaps Solange knew the comparisons to Beyonce were unavoidable, which is why she asked, "Let my star light shine on its own/I'm no sister, I'm just my God given name" on the opening track of Sol-Angel and the Hadley Street Dreams. But if she thought that alone would end the discussion: uh oh uh oh uh oh, oh no no..

As Solange tries to cast herself as the weed smoking, foul mouthed, rebellious sibling who's antithetical to the clean-cut brand popularized by her sister, her efforts only make her seem just as contrived as Beyonce. It's a common problem among many contemporary artists: Trying to force a conclusion on audiences versus letting them draw their on. The key to being different is to just be, which is why Solange should let her music speak for itself. It's certainly good enough to.

On her sophomore album, we find a more polished and cohesive effort than its 2003 predecessor, Solo Star. Much of that has to due with the now 22-year-old's maturation as an artist. Whereas Solo Star seemed devoid of direction with its heap of influences, Sol-Angel and the Hadley Street Dreams suggests Solange has finally discovered a more concise sound she's comfortable with.

The album is a hybrid of Motown soul and contemporary pop -- not too far away from the sound big sis initially aimed for in her solo endeavor before the failure of "Work It Out."

The mix makes for infectious tracks that showcase charm ("I Decided"), wit ("T.O.N.Y."), and spunk ("Would've Been The One"). And when she's not riding down the retro road, the superb "Sandcastle Disco" and euphoric "Cosmic Journey" prove the youngest Knowles is equally adept with modern sounds.

A drawback of the set is for all her good intentions there are instances where she falls flat. Despite her vocal growth, her voice doesn't always capture the depth she tries to convey in tracks like "Valentine's Day" and "I Told You So." None of these minor flaws take too much away from Solange's major effort to reestablish herself as a credible artist.

With the likes of Amy Winehouse already taking their Motown homage's to the top of charts, Sol-Angel... may not seem as unique as intended, but it's certainly impressive, and more importantly, refreshing – qualities that should see Solange deliver on the dreams of Hadley Street a lot sooner than relying on being different would.
Labels: review
The Cynical Ones.