This morning I woke up and ate Kashi cereal along with some Odwalla Superfood juice (it was on sale) for breakfast. This afternoon I attempted to eat a Kashi frozen dinner that I had a free coupon for (I told ya'll I wrote "The Recession Diaries," I'm not playing), but most of that ended up in the trash. The other parts of it are somewhere in the Los Angeles sewer system.
You see, the other day I went and tried on some clothes. When I took off my shirt, I didn't want to break the mirror. I can't remember the last time I felt that way. I believe Jade and Brownstone were still relevant at the time.
In any event, it made me feel quite good about my hard work at the gym, and inspired me to take my initiative to eat much healthier even further. Though it's something I started doing a long time ago I want to eat even healthier.
Part of it is out of sheer practicality. I don't have health insurance anymore. It doesn't make sense for me to eat any and everything. Fast food is for people who can afford to have a stroke.
And to tell you the truth despite thinning out years ago I still sometimes channel my inner fat boy. That has got to stop, ya'll. But eating healthy can be so boring sometimes. Not to mention a lot of health food looks and sometimes tastes like it belongs in a bowl for a dog named King.
Why can't carrots taste like Chick-fil-A?
It gets worse. Do you know I've been trying to drink less, too? That means no catfish and Hennessy for. After a while I get to wondering, "This can't be life, can it?"
Then I think about the alternative.
Like this heart attack wrapped in foil. This is chicken strips, mozzarella sticks, french fries, and a whole lot of grease. Eating like that can only lead you to a few places.
Here.
There.
Or in a doctor's office for a consultation on gastric bypass.
Before you even wonder, no, this is not in the south. That's a
food truck in New York
. Midtown to be exact.
Do not want.
Beyond the issue of fitness, some people are just nasty as hell.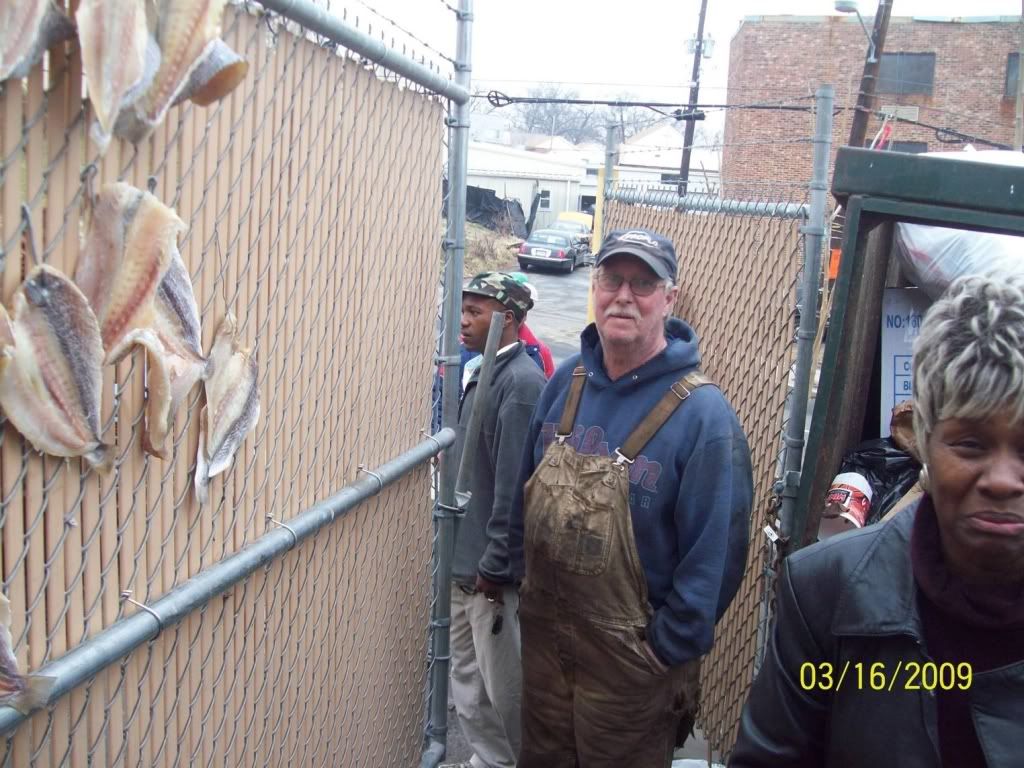 Exhibit A. This is a picture from a Chinese carry out in D.C. I'm not sure which one, but I pray it's not one I ever ate it. That fish is hanging next to a dumpster. While I'm thrilled to know it's actual fish, I don't like the fact that the D.C. rats can get dibs on it before actual customers can. And here I thought I only had to worry about whether the chicken is really chicken.
I takes a lot of self-control to stick with a healthier diet. I know myself and I know that I am greedy is hell and if I had my way I would eat all of the wrong things twice with seconds.
So I continually train myself to eat healthier. But yikes, it's hard. Especially if you're opting to cut back on alcohol. That helps the vegetables go down.
I want to eat healthier, get fit, but not sound like one of those crazy health nuts. I feel like I'm already headed towards that path. How do you strike a balance?
Leave your suggestions and chicken nuggets in the comments, please.
P.S. I'm not counting today in my fit plan. I had a margarita. In my defense, it's been a very stressful day and being all one with the universe can only do so much.
The Cynical Ones.