They should've never given some of ya'll a YouTube account.
Prince Bow Wow (hey that's his user name) took moments of his precious time to upload a video message for the haters. Seemingly dumbfounded, the still lil' rapper posed some questions for the hater.
Before I get to that, first things first: I gotta "hate."
"I never hate on a nigga."
Liar. T. I. Bow was having Happy Meal-sized beef with Lil' Romeo.
"Hating is like snitching to me."
You.Are.Not.A.Thug. Never have been. Never will be. Don't make me send one of my lil' cousins to whoop your ass.
"You lame for that."
A grown man named Bow Wow is calling someone else lame.
"Especially if you hating on another dude. If you spend time hating on another nigga, it's a problem."
Dude was definitely hating on Will Smith a while back.
"Your husband probably cheating on you."
You better hope he's not cheating on her with Omarion.
"You gotta be doing something good for niggas to be hating."
Two words, one initial, homie: George W. Bush.
"Ya'll don't even get paid for hating."
Perez Hilton is a millionaire.
As for repeating the n-word every other second, and constantly repeating, "I don't understand:"
Go read a book, you illiterate, son of bitch, and step up your vocab.
Word to Bun B.
"Why hate?"
This has got to be one of the most overused terms ever. Having a discerning opinion doesn't make automatically make you a hater. I wish people past 10th grade would stop suggesting otherwise.
He's a pretty good actor, so why not act like someone other than a spoiled, self-involved cocky jackass?
But: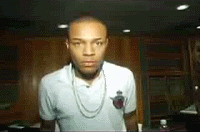 I guess Wow Weezy told me.
The Cynical Ones.