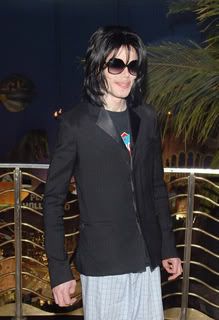 I'm beginning to think I should revisit the idea of changing my name to Prince. Possibly headed to Peter Pan's pajama party, the King of Pop and
Lace Fronts
stepped outside to stunt on ya'll days before his 50th birthday.
Looking into the camera like he wants to say 'fresh azimiz...shamon,' Mike is showing you don't have to do yoga all day to stay skinny at 50 -- just don't eat. How you like them organic Kabbalah blessed apples, Madonna?
While his wig game is no doubt still proper, how many times are we going to see him in his pajamas? With him owing 50% of the world, has he gone on a pants boycott? And try as he might, you can't dress up pajama pants. Save the blazer for Halloween when you dress up like an adult, Mike.
Apparently he's working with Ne-Yo the Negro on his new album. Why does it sound like Louie Vuitton getting together with a Chinese bootlegger to design a new purse? It's too bad that no matter what the product sounds like, should he keep up with these antics, his album will make
Discipline
look like
Thriller
.
The Cynical Ones.