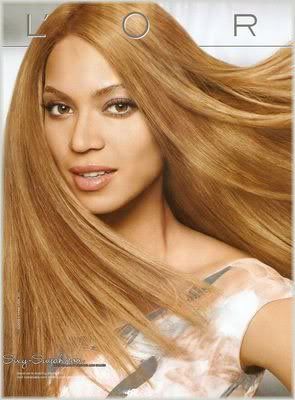 Beyonce, white people called and they want their swagger back. I should have known the second I wished for her return she would channel her inner Lil' Kim.
This ad leaves me with a couple of questions:
When did L'oreal start selling "Black be gone" products?
Does Photoshop have beef with Beyonce's other nostril?
Will she ever show her natural hair?
If not, can she at least buy a different colored lace front?
Why does it look like if that fan were blowing any harder we all would be staring at Beyonce's scalp?
Does she even realize how boring this look has become?
I can't believe I'm saying this (again), but Beyonce could learn a thing or two from Rihanna. Or the cashier at the take out place down the street from me who changes her hair color every other week.
Get up on game, Bee!
The Cynical Ones.