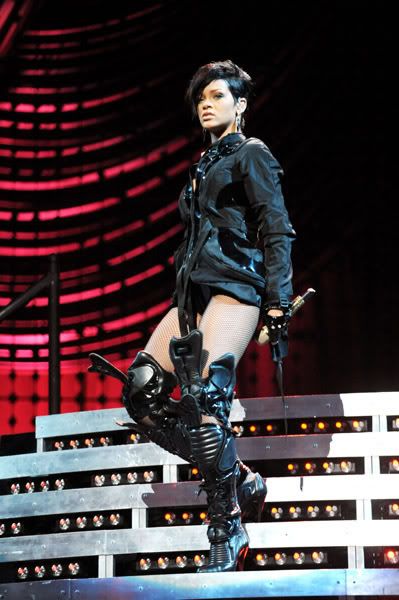 Although I've made attempts in the past, I've never fully embraced Rihanna as an artist. I've often pointed to people like her as an example of why how the music industry is a cesspool of marginally talented pop stars pretending to be a lot hotter than they actually are. However, the more I see her, the more I'm less inclined to believe that. Honestly, I'm actually starting to look to her as a bright spot in pop music.
Granted, up until very recently I thought she sounded like a pregnant goat, but now there's something about her voice I find all too appealing. Before you ask, yes, I checked to see if it's some sort of island hex she put in her songs. I don't think that's it. Whether you like it or not, her voice is distinct and there aren't many singers (genuine and make believe) out there who can claim such a feat. Perhaps more people ought to model their singing style after Billy Goat Gruff's baby mama, because I'm starting to get hooked to anything she sings.
I stumbled along a couple of her leftover tracks over the last two weeks and I'm stuck on them. They are
"How I Like It"
and
"Bad Girl."
The latter track features her hyperactive boyfriend trying to rap. Consider yourself warned.
Disclaimer:

Look here now, don't you go suing me thinking you're going to get some money out of my bank account. If you want those songs taken down send me a message and we're good. I'll be damned if I pay for Rihanna's next touch up or super freak whip.
Neither track is particularly worthwhile yet I can't stop listening to them - and that infatuation is completely attributed to her voice. I can't believe I'm writing that without laughing. I'm intrigued to see what she comes up with on her upcoming album.
Good Girl Gone Bad
was a good album, and dare I say, better than
I Am...Sasha Fierce
(cherish the moment, because I guarantee you're likely to see me vote Republican before you get me to say Rihanna is superior to Beyonce in any way again).
I think what's helped me warm to her is that between forcing her down my throat, Def Jam has allowed her time to develop as an artist. If you were born before the first
Home Alone
you might remember a time when music executives actually gave their acts with potential more than one album to find a sound and image that worked for them. It's the difference between an artist like Rihanna coming full circle and girls like
Teairra Mari
still trying to pull it all together (blame her daddy).
The only thing left for Rihanna to develop are her
performance skills
. That will likely require a combination of dance classes and prayer, but I'm hoping she gets that together. I believe that's the difference in her becoming an artist with a career like Beyonce or one more reminiscent of Jennifer Lopez's music career. Either way, I'm glad I've come to appreciate her for more than her impressive forehead.
I'm really proud of myself.
A year ago
I only started liking her for shallow reasons. Now I can say I like her for actual talent. Am I finally now seeing the light or do I never need to drink out of Chris Brown's sippy cup again?
The Cynical Ones.