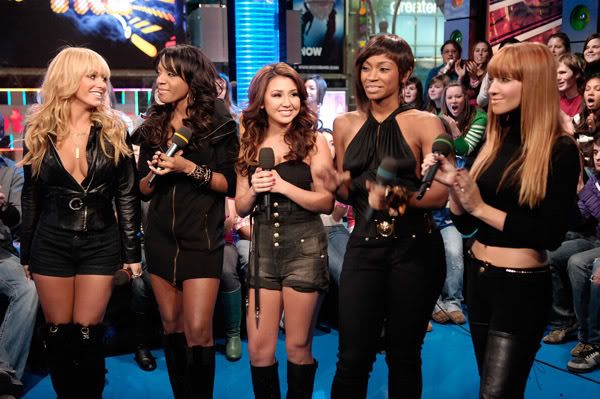 When a show is known for producing quality acts like the pop phenomenon known as O-Town or the lyrical genius that is Dylan, any group that follows in their footsteps should expect to be met with a degree of skepticism.
Though I thought they made good television, I never took Danity Kane seriously as artists. I considered the release of their album nothing more than a vanity project thrown out there to appease Making the Band fans that assisted Puffy in generating a lot of advertising revenue from the show.
I looked them as a group of nice, but random girls thrown into a television-ready singing group where they were told to lose weight to fit into the Bad Boy pop group of yesteryear's old clothes, and try as hard as they could to be half as good as the hottest pop group of the moment, The Pussycat Dolls.
They came across as Dream: The College Years.
Then they released their first single, "Showstopper," which I liked, but not for the same reasons that most people do.
We sittin on 22's plus 2
Mink bucket seats, neon blue
Color-coordinate with them shoes
Ya, we divas but we ride like big boys do
After watching the show, you knew the lyrical content didn't match up to who some of the girls were as people. It's catchy, but I like it for the same reason I'll probably like Mariah Carey's song with Damien Marley in which she sings with a Jamaican accent: hilarious absurdity.
I heard their debut album; I thought it was ok, though it seemed like Puffy called every A-list producer he knew and asked for a clearance rack beat for the girls to sing over.
I was happy when they went platinum…but I still didn't take them seriously.
But after watching this season of the show, I realized that maybe I was being harsh (I know: I'm surprised about it, too).
I liked seeing them try to take more charge of their sound and image. I appreciated the fact that each of them have stepped it vocally. We live in an era of music where if you manage to sing for three seconds without a pre-recorded track drowning you out, you are lauded for your vocal ability. And as far as performers go, they are energetic, good dancers, and, the word I was reluctant to use to describe them: believable.
Plus, unlike Beyonce and Nicole Whatever, there isn't one lead singer boss-hogging the mic. (If only En Vogue had a TV show in 1992.)
I don't know if they really changed, or if I just decided to be easy and appreciate everything for what it was, but I like them more this time around—enough to actually buy their album.
Well to be honest, I initially planned to buy it out of pity anyway. After hearing them talk about being broke in an interview with Wendy Williams, I figured I would spend $10 to support them – although I suspected $8.50 would go to Diddy Puff's Kim Porter and the baby mama in Atlanta fund.
After actually listening to the album, I actually enjoyed it. I might of have been kind of embarrassed about that for the first week or so, but I'm over that now.
Welcome to the Dollhouse is a fun, catchy, finely executed pop album. There are still some cheesy qualities to some of their content ("Bad Girl"), but I still like it and them -- a lot. I don't regret buying their album over a chicken sandwich the way I do about Kelly Rowland's last album.
Am I losing my mind or am I just catching up with the million who got them the first time around? I'm not sure, but I think I deserve a free No Bitchassness shirt for giving the girls a real chance.
Yeah, yeah: I'm a Danity Kane fan. I even have favorite members.
The same cannot be said for Day 112. People are going crazy over their album, but they only make me miss Jodeci more. But, who knows, like Danity Kane, maybe it will take me another season to sip the Koolaid.
The Cynical Ones.