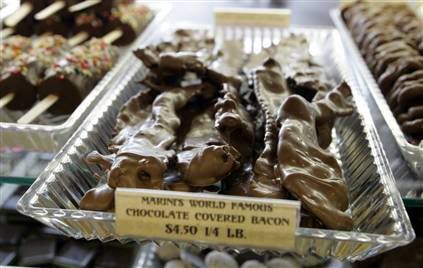 In gluttony news, I read
this
story about chocolate covered bacon. Is your stomach growling or is that the sound of your heart begging you for mercy?
This little love child of Porky Pig and the Hershey corporation is not the brainchild of anyone in the South. This is something out of Santa Cruz. Cali, stand up because the world is looking at you. But don't brag too much as Minnesota would like to get a little shine for this, ya dig. This year, Famous Dave's at the Minnesota State Fair is rolling out Pig Lickers — dark chocolate-covered bacon pieces sprinkled with sea salt.
I don't think my taste buds have been this excited since walking down a New York street that smelled like a potion of piss, shit, and bad breath.
"There's a whole trend toward chefs pushing the boundaries," says Page. "Chefs are trying to be more playful and incorporate new kinds of whimsy."
I'm thinking catfish flavored oatmeal, onion cheesecake, and cookies that taste the way T-Pain looks.
Mmm. Have I left your mouth watering?
Labels: fat boy files
The Cynical Ones.