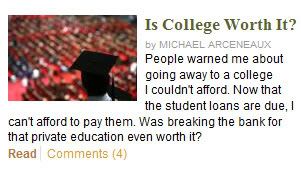 I know, I know: Where are the updates? I've been grindin', jack. The following piece is an example of such. So, to make a long story short, I'm never comfortable talking about this with too many people, but I was presented with an opportunity and I decided that instead of clinging to myto pride, I might as well talk about it publicly -- especially if it will get people with similar struggles to share.
I will be writing a new feature on
The Root
called
The Recession Diaries
. Essentially, it's trying to capture the varied experience of Black professionals old and young and how we all deal with these tough economic times. College students, particularly those at HBCUs are already encouraged to write in (though students at any college are needed to contribute).
I wrote about my dilemma with student loans (particularly the private student loan industry) to start things off.
If you know of anyone struggling, or if you yourself are, please pass this post around and invite those to share their tales by emailing
therecessiondiaries@gmail.com
.
Also, if you could, please go out and read my piece and leave feedback. I would really appreciate if you did. I want this to be a success. I'm really trying to avoid stanky legging in the street for spare change, so help me succeed.
Click me
to read.
Thank you!
The Cynical Ones.