1. Is it OK to let go?
2. Ever?
3. Based on the feet, is Rihanna related to Sasquatch?
4. What's the first thing that comes to mind with this picture?
5. Should Common change his name to Chameleon?
6. What's going to turn out better: Her driving record or
Human's
sales?
7. Where's your bailout?

8. Is this the dumbest question you've ever been asked?
9. Or is this one?
10. With a nose job and butt injections, why didn't Kim Kardashian seek a rhythm transplant before she signed on for
Dancing with the Stars
?
Bonus: What exactly is she a star of?
11. Am I the only person who never wants to hear the word maverick again?
12. She can't sell records let alone sing, she's not smart, and she's built like Sgt. Slaughter, so why is Brooke Hogan relevant?
Bonus: Same goes for
The Hills
.
13. Has Sarah Palin given you a newfound appreciation for the intellect of George W. Bush?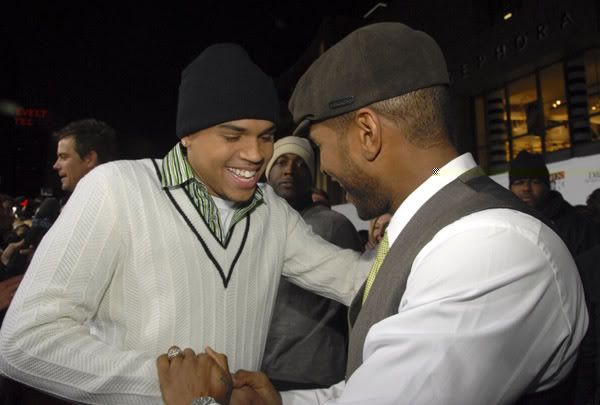 14. Would Usher rather trade places with him?
15. Why do I get the feeling Jennifer Hudson smells like okra?
16. Who else hates public displays of affection?
17. Which one is more extra: Tyra Banks or Kimora Lee Simmons?
18. Is it just a coincidence that many of the anti-Obama people are illiterate?
19. Name the three textures of hair found in this picture.
20. Has O.J. finally gotten what he deserves?
21. Can you name five shows not reality-tv related worth watching?
22. After
listening

to Beyonce's "If I Were A Boy,"
would you be surprised if you heard Miley Cyrus on the remix?
Bonus: Doesn't
"Singles Ladies"
sound like it would be Elle Mae Clampett's shit?
Disclaimer: Don't sue me.
23. In the third presidential debate will John McCain finally tell "that one" to get off his lawn?
24. Who else gets nauseous watching Dawn and Que flaunt their awkward love on
Making The Band
?
25. Will you spread The Cynical Ones link around again? (Hint: The answer should be, Yes We Can."
Edit:
I had to add this:
What the hell is he talking about?